An Overview of Senate Bill 699 (California's Expanded Ban On Non-Compete Agreements)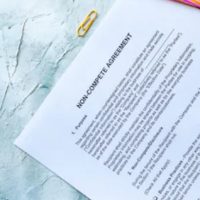 On September 1, 2023, California Governor Gavin Newsom signed Senate Bill 699 (SB 699) into law. The legislation strengthens California's already comprehensive restrictions on non-compete agreements. Most notably, the law strengthens an employee's private right of action—allowing them to sue for additional damages if an employer has them sign and/or tries to enforce an unlawful non-compete agreement. Within this blog post, our California employment lawyer explains the key things employers should know about SB 699.
Background: California has Long Restricted the Use of Non-Competes By Employers 
While non-compete agreements are permissible in a number of states, California has long restricted the use of non-compete agreements by employers. Non-competes can only be used in the state in a very narrow set of circumstances.
Legislative Purpose: Prevent Employers From Using Unlawful Non-Competes
 The legislative findings that were published along with SB 699 provide a glimpse into the objectives of the new law. California lawmakers highlight the fact that too many employers still use non-compete agreements which are invalid and unenforceable under already-existing California law. Lawmakers believe that this has a chilling effect on employees.
The Two Key Things that Employers Need to Know About California SB 699
SB 699 significantly strengthens California's state-level prohibition on employee non-compete agreements. As noted, these agreements are already largely barred by state law. Still, SB 699 makes two key legislative changes that could have an important impact on employers:
Private Right of Action (Employee Can Sue for Attorney' Fees): SB 699 provides employees in California with a private right of action. They can file a lawsuit against an employer to get a non-compete agreement declared void. Notably, beyond injunctive relief, the new law allows employees to sue an employer or attorney fees and other costs. In effect, it raises the potential liability for employers that use non-competes.
Out-of-State Employers Barred From Trying to Enforce Void Contract: A non-compete agreement that was signed in another state—even if fully valid in that jurisdiction—is unenforceable in California. An employer from another state that attempts to enforce a void contract (invalid non-compete agreement) in California can face a lawsuit under SB 699.  
 Timeline: The Expanded Law Takes Effect in 2024 
SB 699 will officially take effect in California on January 1, 2024. All employers that have employees in California should ensure that they are in full compliance with the law. Out-of-state employers should be especially careful. A valid non-compete in another state cannot be enforced in California. An attorney can help companies and organizations navigate issues related to SB 699.
 Get Help From Our California Employment Lawyer for Employers Today
At the Law Office of Karen J. Sloat, APC, our California employment lawyer helps companies and organizations find workplace solutions. If you have questions about expanded prohibition on non-compete agreements, please contact us today for a confidential case evaluation. We represent employers in Coachella Valley, Riverside County, and throughout California.
Source: 
legiscan.com/CA/text/SB699/id/2837680