What Are The Sexual Harassment Training Requirements For Non-Supervisory Employees In California? (2023)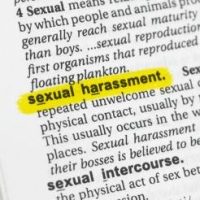 Unfortunately, sexual harassment in the workplace has long been a problem, both in California and throughout the United States. The National Sexual Violence Resource Center (NSVRC) cites data showing that 38 percent of women and 14 percent of men state that they have personally experienced sexual harassment in the workplace.
To address the issue, California has enacted some of the most comprehensive sexual harassment training laws in the entire country. It is imperative that all employers comply with the state's sexual harassment training standards. Here, our Riverside County employment lawyer for employers provide an overview of California's sexual harassment training requirements for 2023.
 What to Know About Sexual Harassment Training: Non-Supervisory Employees 
To be sure, it is crucial that employers in California follow the sexual harassment training requirements for supervisory employees and human resources personnel. That being said, California law all requires many employers to prove minimum mandatory sexual harassment training for non-supervisory employees as well. As explained by the State of California Civil Rights Department, "every two years, nonsupervisory employees must receive at least one hour of training." The requirement applies to all employers with five (5) or more employees.
Sexual Harassment Training Requirement Applies to All Types of Non-Supervisory Workers
In California, the sexual harassment training requirement for non-supervisory employees applies to all types of workers employed by a company. Along with other types of employees, this includes:
Full-time employees;
Part-time employees;
Seasonal workers;
Other temporary employees; and
Workers who are on leave.
Employers Must Provide Employees With Sexual Harassment Information
 California law also dictates that employers must provide workers with a poster and/or fact sheet from the Civil Rights Department that details key information about sexual harassment. Employers can also satisfy this requirement by providing employees with "equivalent information." 
Employer Record Retention Requirements in California
 California state regulations mandate that employers must retain the records related to all employee sexual harassment training for at least two years. All businesses and organizations in Riverside County should ensure that they have the proper procedures in place to maintain records. We recommend that you keep sexual harassment training records for employees beyond the minimum two years because those are often helpful to provide defenses in litigation against employers.
 Following Training Requirements Helps to Reduce Liability Risk for Employers 
Following sexual harassment training requirements for both supervisory and non-supervisory employees in California can help to reduce liability risk for employers. By providing the required training, employers can demonstrate that they have taken steps to prevent and correct sexual harassment in the workplace, which can be a key factor in defending against claims of liability. Additionally, providing the training can help to create a culture of respect and compliance with the law, which can further reduce the risk of sexual harassment incidents occurring in the first place.
 Contact Our Riverside County, CA Sexual Harassment Compliance Attorney Today
At the Law Office of Karen J. Sloat, APC, our California employment lawyer for employers is committed to providing proactive, solutions-driven legal guidance. If you have any questions or concerns about sexual harassment training requirements, we can help. Contact us today to arrange a confidential initial consultation or to conduct all of your required training. From our law office in Palm Desert, we provide employment law representation to employers in Riverside County and throughout the Coachella Valley.
Sources: 
nsvrc.org/ending-sexual-assault-and-harassment-workplace
calcivilrights.ca.gov/shpt/