How Much Can A California Court Award In Punitive Damages For Disability Discrimination?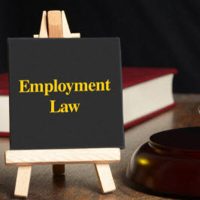 California law protects workers from disability-based discrimination. Under the Fair Employment and Housing Act (FEHA), an employer must provide a "reasonable accommodation" for an employee or job applicant with a disability, unless the employer can show that such accommodation would impose an "undue hardship" on their business.
With the pandemic, we have seen a large increase in disability discrimination claims, as employees have taken time off work for medical testing, treatment or recovery. Many of these new complaints are not COVID-related, but stem from anxiety, high blood pressure or other medical or mental conditions that constitute a "disability" under applicable law. We caution our employer clients to contact us immediately when an employee requests or demands medical leave – whether or not they have a doctor's note. We can help you avoid liability for unwise and unlawful personnel action or retaliation in reaction to the employee's request.
While the law does not automatically require an employer to give a disabled employee any accommodation they request or want, the employer must still engage in a good-faith interactive process to find a reasonable accommodation when possible. The employer also may not retaliate against the employee – e.g., fire them – simply because they requested a medical leave or another accommodation for a disability. An employer who violates the FEHA can be held liable to pay the employee compensatory damages, i.e., to compensate the employee directly for losses sustained, as well as other remedies.
Court of Appeal: 2-to-1 Ratio of Punitive-to-Compensatory Damages Sufficient for "Somewhat" Reprehensible Conduct
In some discrimination cases, a California jury may also award punitive damages against an employer whose actions are found to be especially reprehensible. Punitive damages are designed to punish the employer rather than compensate an employee for their particular losses associated with an act of disability discrimination. Consequently, juries have wide latitude in deciding how much money to award in punitive damages. But judges may also reduce a jury award for punitive damages the judge deems excessive, particularly when the punitive damages greatly exceed the amount of compensatory damages awarded.
A recent decision from the California Fourth District Court of Appeal, Contreras-Velazquez v. Family Health Centers of San Diego, Inc., CA4, 4/7/2021 (or 4/5/2021: Case No. D076601 illustrates the delicate legal balancing act involved when it comes to evaluating the "right" amount of punitive damages to punish the employer. In this case, the plaintiff suffered a work-related injury while employed by the defendant, a nonprofit community healthcare clinic. After the plaintiff underwent surgery for an injury and returned to work, the defendant transferred the plaintiff to a new position.
The plaintiff requested a disability-related accommodation for her new position. The defendant told the plaintiff to stop coming to work until she could produce a doctor's report indicating her fitness to return. The plaintiff's doctor subsequently advised the defendant that the plaintiff could "return to modified work" with certain restrictions, and listed specific accommodations the employer could implement for her.
The plaintiff continued to check in with the employer about returning to work. However, the defendant required the plaintiff to remain away from work for three additional months, ostensibly because the defendant could not find a position that was "available and suitable" for the plaintiff, given her medical condition. Then the defendant proceeded to terminate the plaintiff's employment.
The plaintiff subsequently sued the defendant for disability discrimination. The trial ended in a verdict for the defense, but that decision was overturned on appeal. At the second trial, the jury ruled in favor of the plaintiff, awarding her $915,645 in compensatory damages and $5 million in punitive damages. The trial judge then reduced the punitive damages award to just over $1.8 million–or two times the amount of compensatory damages.
Both sides appealed. The plaintiff argued the Fourth District should reinstate the original $5 million award. The defense argued for a further reduction, maintaining the amount of punitive damages should be equal to the award of compensatory damages. The Fourth District rejected both arguments and upheld the trial court's decision.
The appellate court said the defendant's misconduct in this case was "somewhat or moderately reprehensible," thus justifying an award of punitive damages, i.e., some punishment. But given that the misconduct "appear[ed] to have been the product of mere neglect or accident," the court concluded that a 2-to-1 ratio of punitive-to-compensatory damages was more than adequate to punish the defendant.
We anticipate that this decision will be used in future litigation to guide courts, litigants and attorneys on the amount of punitive damages to seek and how to instruct juries on what should be considered "somewhat or moderately reprehensible" as opposed to "very reprehensible." Obviously, this is a "somewhat or moderately" subjective standard and subject to much debate.
Contact California Employment Lawyer Karen J. Sloat Today
It is important for employees reading this to understand that not all successful disability cases will justify an award of punitive damages. That is why it is important to work with an experienced Cathedral City employment lawyer representing employees who can provide you with an honest assessment of your case and advise you of the best course of action. Contact the Law Office of Karen J. Sloat, APC today.
Source:
scholar.google.com/scholar_case?case=16978392204320935133