What California Employers Should Know About Arbitration Agreements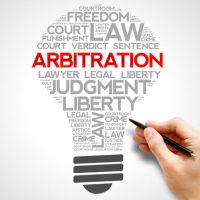 Many employers in California prefer to have employees sign arbitration agreements, which are contracts between the employer and the employee that result in any disputes being resolved by an arbitrator instead of in a court. Most often, employers will include arbitration agreements within employment contracts or other broader agreements. Generally speaking, employers in California want to have employees sign arbitration agreements because arbitration can resolve disputes in a faster and more cost-effective way than litigation. However, there are restrictions on arbitration agreements in California, and it is important for employers to understand what they can and cannot ask of employees concerning arbitration agreements. Our California employment law attorneys can provide you with additional information.
Can You Ask Job Applicants or Employees to Sign Mandatory Arbitration Agreements? 
The issue of  whether California employers can require employees to sign most mandatory arbitration agreements is a hot topic. AB 51, which took effect on January 1, 2020 and added Section 432.6 to the California Labor Code, prohibited most types of mandatory employment arbitration agreements. The law attempted to allow job applicants and employees to choose not to sign arbitration agreements that would require them to address claims of discrimination or harassment, or wage and hour law violations, through arbitration. The law also included provisions to prohibit an employer (or potential employer) from retaliating against a job applicant or an employee who decides not to sign an arbitration agreement.
AB 51 did not impact arbitration agreements that already exist, and it did not prevent job applicants or employees from voluntarily entering into arbitration agreements. A number of judicial challenges to AB 51 have been filed and its impact is currently in limbo.
Arbitration Agreements for Sexual Harassment and Sexual Assault Claims Are Unenforceable 
Under recently passed federal law (H.R. 4445), employers in California should know that any arbitration agreements "that preclude a party from filing a lawsuit in court involving sexual assault or sexual harassment" are unenforceable and are invalid. As President Biden explained prior to signing the bill into law, the idea behind the legislation was that, "when it comes to sexual harassment and assault, forced arbitration shielded perpetrators, silenced survivors, and enabled employers to sweep episodes of sexual assault and harassment under the rug."
The key thing for employers to know is that they cannot require arbitration for any claims concerning sexual harassment or assault in the workplace.
Carefully drafted employment arbitration agreements are enforceable, provided they meet the current state of California and federal laws. We recommend that employers have up-to-date arbitration agreements in place. Contact our office to obtain a valid, enforceable arbitration agreement to present to your employees.
Contact a California Employment Lawyer Today
 If you have questions about arbitration agreements and your rights as an employer, you should seek advice from a California employment law attorney for employers at the Law Office of Karen J. Sloat, APC. Our firm serves employers in Riverside County, Cathedral City, Coachella and Desert Hot Springs.
Sources:
leginfo.legislature.ca.gov/faces/billTextClient.xhtml?bill_id=201920200AB51
congress.gov/bill/117th-congress/house-bill/4445
whitehouse.gov/briefing-room/speeches-remarks/2022/03/03/remarks-by-president-biden-at-signing-of-h-r-4445-ending-forced-arbitration-of-sexual-assault-and-sexual-harassment-act-of-2021/
law.justia.com/cases/california/supreme-court/4th/24/83.html