What Should Employers Include In Employee Handbooks?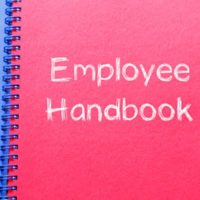 Employers in Southern California have many responsibilities toward employees under state law, including responsibilities that concern paying appropriate and timely wages, taking steps to prevent and handle discrimination claims in the workplace, and ensuring that the workplace is safe for any workers. Employee handbooks are important for employers of all sizes in Southern California to comply with both state and federal laws, to clarify policies concerning employment and termination, and to specify other issues involving the workplace. The California Employment Development Department provides a California Employer's Guide each year that is designed to "help employers understand their rights and responsibilities." Some of this information is critical to include an employee handbook, along with other information that is specific to your business.
What should you include in the employee handbook that you provide to your workers? The following are some of the critical provisions that you should consider.
State and Federal Law Protections for Employees
 Employee handbooks in California should provide information about state and federal laws that impact employees in the workplace, including information about employee rights under the following laws:
Fair Labor Standards Act (FLSA);
Family and Medical Leave Act (FMLA);
Federal laws enforced by the Equal Employment Opportunity Commission (EEOC), such as Title VII of the Civil Rights Act of 1964, the Age Discrimination in Employment Act (ADEA), and the Americans with Disabilities Act (ADA); and
California Fair Employment and Housing Act (FEHA).
Policies to Prevent Discrimination and Retaliation in the Workplace 
California law requires employers to have information concerning policies to prevent discrimination and retaliation in their handbooks. You should know that your business has a duty under the FEHA to take preventive measures so that employees do not face certain forms of discrimination in the workplace.
 Disciplinary Action and Termination 
It is important for employers in Southern California to be consistent in handling disciplinary actions and termination of employees. An employee handbook should clarify the kinds of circumstances in which an employee can face disciplinary action or termination, and that policy should be applied in a streamlined manner in the workplace. It is important for California employers to understand the kind of language that could violate guidance from the National Labor Relations Board (NLRB) or other agencies and to avoid any policies that would prevent an employee from speaking about wages outside of work, for example.
Policies pertaining to disciplinary action and termination should be specific and should not involve any protected activities. To ensure that your workplace policies concerning disciplinary action and termination comply with applicable state or federal laws, you should seek advice from an employment lawyer as you are drafting or updating your employee handbook.
Contact an Employment Law Attorney in Cathedral City
 Employee handbooks should be drafted and updated with assistance from an experienced employment lawyer in California. Employers of various sizes have specific responsibilities to employers under state and federal law, and an employment law attorney can ensure that your business is in compliance. Whether you are drafting an employee handbook for the first time or updating your handbook, you should contact an employment lawyer serving employers at the Law Office of Karen J. Sloat, APC today. We serve clients in Riverside County.
Sources:
edd.ca.gov/siteassets/files/pdf_pub_ctr/de44.pdf
nlrb.gov/about-nlrb/rights-we-protect/the-law/employees/concerted-activity