Is Your Employer Liable For Injuries You Sustain At An Off-Site Work Meeting?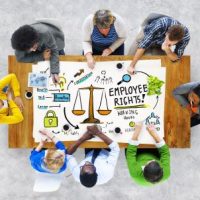 During the COVID-19 pandemic, many of us have shifted to working from home either part- or full-time. This does, however, raise an interesting legal question. Under California law, an employer has an "affirmative duty" to provide employees with a safe workplace. But does that duty extend to employees working out of their home or some other off-site location?
Appeals Court Dismisses Lawsuit Over Home Shooting
The California Second District Court of Appeal in Los Angeles recently addressed this issue. This particular case, Colonial Van & Storage, Inc. v. Superior Court, involved the tragic shooting of two people. The defendant is a moving and storage company based in Fresno.
One of the defendant's supervisors was a woman with the last name of Holaday. Holaday and her husband were both employees of the defendant. The defendant permitted Holaday to work from home "at her discretion." Holaday had a co-worker and a business colleague on the day in question over to the house for dinner. As described in court records, the parties "were socializing, but also networking and engaged in job-related tasks."
The dinner ended abruptly when Holaday's adult son, a war veteran with a history of post-traumatic stress disorder, entered the living room and started firing his handgun. Holaday's husband died as a result of the shooting, and Holaday, her co-worker, and the business colleague all sustained injuries.
The co-worker and colleague subsequently filed a personal injury lawsuit naming both Holaday and the moving company. The company argued it could not be held legally responsible for a criminal act that took place in an employee's home. The plaintiffs argued the employer effectively "controlled the home where the shooting occurred" and thus had an affirmative duty to ensure a safe work site–particularly against a known risk like Holaday's son.
A Superior Court judge denied the defendant's motion for summary judgment on liability and set the case for trial. But on appeal, the Second District reversed. It held that under these facts, there were no legal grounds for holding the employer responsible for the shooting.
The key point for the Second District was that the employer did not "control" Holaday's home. It did not require her to work there during certain hours or treat the property as a business location for legal purposes. And in the case of the injured co-worker, the Court said the employer owed her no special duty to protect based on the employer-employee relationship. But, again, this was because the shooting took place off-site at a location the employer did not own or control.
Contact California Employment Attorney Karen J. Sloat Today
As working from home continues to become a more common option for workers, we are likely to see additional legal disputes arise over employers' legal obligations towards such workers. If you need advice or representation from a qualified Riverside County and Coachella Valley employment lawyer for employees, contact the Law Office of Karen J. Sloat, APCtoday.
Source:
scholar.google.com/scholar_case?case=17551864582126480655