Do California Employers Have To Pay Employees For Time Spent In COVID-19 Screenings?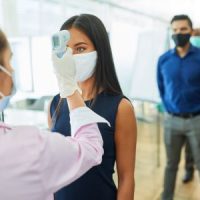 The ongoing response to the COVID-19 pandemic has led–or in many cases compelled–California employers to adopt new protocols to help keep their employees and workplaces safe. For example, many employers now conduct mandatory health screenings for COVID-19 symptoms–asking basic questions, taking temperatures–before an employee is allowed to start working for the day. But this has led to another legal question: Do employers have to pay employees for time spent undergoing such screenings?
Judge: Screenings Not "Integral" to Work of Delivery Drivers
A federal judge in California recently addressed one such case. This particular lawsuit, Pipich v. O'Reilly Auto Enterprises, LLC, involved a chain of stores that sells auto parts. The plaintiff, in this case worked as a delivery driver for one of the defendant's stores in California. The plaintiff's job mainly consisted of loading and transporting auto parts from a company distribution center to individual stores.
The employer implemented COVID-19 screening measures in 2020 based on U.S. Centers for Disease Control and Prevention guidelines. These measures required employees, including the plaintiff, to undergo a screening process that took about 2 to 5 minutes each day, although actual times were longer given the number of employees waiting in line.
The plaintiff's lawsuit alleged that he was entitled to compensation under the Fair Labor Standards Act for time spent waiting and undergoing this daily screening. However, the defendant argued such compensation was not required under a related federal statute known as the Portal-to-Portal Act. This statute provides that an employer is not legally required to compensate an employee for any "activities which are preliminary to or postliminary to [the employee's] principal activity or activities" before or after their shifts.
In other words, activities such as a pre-shift security or health screening are not considered part of the employee's job unless they are somehow "integral and indispensable to the principal activities that an employee is employed to perform," according to a U.S. Supreme Court decision interpreting the Portal-to-Portal Act. So the question was whether a COVID-19 screening was "integral" to the plaintiff's delivery job.
The judge held that it was not. As noted above, the plaintiff's job was to load and drive delivery trucks. It would be different, the court noted, if the plaintiff were a nurse, someone whose main activity was interacting with patients and keeping them healthy. But screening manual laborers such as the plaintiff for COVID-19 was not integral to their jobs. As such, it was not subject to the compensation requirements of the FLSA.
Contact California Employment Lawyer Karen J. Sloat Today
It is important to note that these types of cases are often highly fact-specific, and this particular judge's ruling does not create binding precedent. Furthermore, this case was decided purely under federal law, so California may impose separate obligations on employers. That is why, as your own business continues to adapt to the changing legal response to COVID-19, it is important to work with an experienced Riverside Valley and Coachella Valley employment lawyer for employers. Contact the Law Office of Karen J. Sloat, APCtoday.
Source:
scholar.google.com/scholar_case?case=6928854106255724923