Employees: Forced to Quit to Protect Your Workplace? You May Have a "Wrongful Constructive Termination" Claim Under California Law.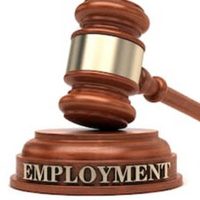 In employment law, we use the term "constructive termination" or "constructive discharge" to refer to a situation where an employee is essentially forced to quit due to intolerable working conditions. If these same conditions would support legal action against the employer if the employee had been fired outright, the term is often known as "wrongful constructive termination." And the employee who quit can still maintain a lawsuit against their ex-employer.
Federal Judge Refuses to Dismiss Ex-Prison Guard's COVID-19 Lawsuit
The COVID-19 pandemic has led a number of employees to quit their jobs for fear of exposure to the virus. Many employers have failed to take reasonable and necessary precautions to keep even their essential workers as safe as possible. As a result our office is seeing an increasing number of wrongful constructive termination lawsuits filed by these workers.
One such case currently pending before a federal judge in the Southern District California is Arnold v. Corecivic of Tennessee, LLC. The plaintiff in this case worked as a detention officer at a private prison facility owned by the defendant. In April 2020, the plaintiff said he was forced to quit due to the risk of COVID-19 exposure.
To go into some more detail, the plaintiff is a 60-year-old man who suffers from high blood pressure and lives with family members who are at substantially high risk of COVID-related complications, including an asthmatic son. In his lawsuit, the plaintiff alleged the defendant refused to allow him and other officers to wear face coverings inside the detention facility when interacting with detainees. Indeed, the plaintiff said officers were not provided with basic protective equipment, such as gloves or masks, even when patting down detainees in close proximity. In addition, the plaintiff alleged the defendant made little effort to clean or sanitize the facility.
In late March 2020, the plaintiff said "multiple staff members" had contracted COVID-19. Despite this, the defendant would not allow the plaintiff to wear a mask in public areas of the detention facility. Under the circumstances, the plaintiff said he had no choice but to quit. He did so and proceeded to file a wrongful constructive termination lawsuit.
On January 6, 2021, the federal judge declined to dismiss most of the plaintiff's allegations against the defendant. The defendant argued that wrongful constructive termination only applied to cases where an employee was forced to quit for either performing or refusing to do an act "that public policy would discourage." The judge disagreed. He noted the California Supreme Court previously considered and rejected this same argument and established that to sustain this type of claim, an employee needs to show that  "the basis of the discharge contravenes a fundamental public policy," not that the employee was somehow coerced into violating the public policy.
Even applying the defendant's standard, the judge pointed out, the plaintiff still had a viable claim. After all, the plaintiff's main claim was that he was forced to quit "for refusing to do something the State's public policy discouraged: work in an environment that was highly susceptible to COVID-19 transmission and in a manner that was likely to further the spread of the disease."
To be clear, this case is not yet final, published or reported, but it demonstrates the standard often applied to a wrongful constructive termination case. An unpublished opinion is a decision by a court that is not available for citation because it is deemed of limited precedential value. That being said, unpublished does not mean unimportant. Many unpublished and unreported opinions contain legal analysis that can help to provide clarity to future litigation and the general public.
Contact Riverside County Employee Lawyer Karen J. Sloat Today
If you have been forced to quit your job due to your employer's misconduct and would like to speak with an experienced Cathedral City employment lawyer for employees about your legal options, contact the Law Office of Karen J. Sloat, APCtoday.
Source:
scholar.google.com/scholar_case?case=1579244337540325848